Malaysia is an interesting place full of many different cultures, traditions, and religions that embraces diversity like no other. Comprising of thirteen states, Malaysia is located in Southeast Asia and it is recognised for being one of the most peaceful multicultural regions in the world. If you are a traveller looking for the best line up of experiences, including beautiful landscapes, and vibrant cities, then this is a place that you will not want to miss.
Here are ten of the best and most interesting places to visit in Malaysia. These are handpicked for travellers who are seeking a great time in this tropical destination.
1. Cameron Highlands
The beautiful Cameron Highlands is a scenic highland that is located in the State of Pahang. Unlike the rest of tropical Malaysia, Cameron Highland spots a much cooler temperature, ranging between 22 to 13 degrees Celsius. This makes it an ideal retreat away from the hustle and bustle of city life.
Cameron Highlands contains lush green hills and is famed for its tea plantations, strawberry farm, and lavender gardens. This is where you can get in touch with nature and even have hands-on experience at harvesting tea and picking fresh strawberries. For nature lovers and hikers take a scenic walk to Gunung Brinchang and the Mossy Forest. These sites promise spectacular views as well as wildlife sightings.
Tour Idea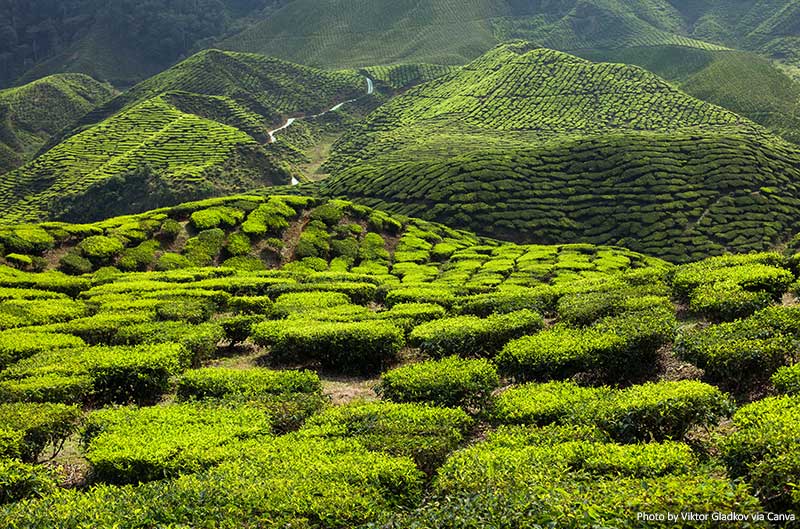 2. Ipoh
Ipoh is a city with old colonial charm and is situated in the State of Perak. Take a stroll down the Ipoh Heritage Walk which stretches 6.5 kilometres. Here you'll be quickly captivated by the architecture that still glistens with hints of old grandeur and colonial legacy. When diving into the history of Ipoh you'll discover that not so long-ago Ipoh was just a sleepy Malay village.
For those who are keen to explore the history of Ipoh then visit Tambun Cave. This cave contains the country's oldest Neolithic cave paintings that date as far back as 5,000 years ago. For a mysterious twist, investigate The Kellie's Castle, an abandoned colonial building that is rumoured to contain secret passageways and supernatural hauntings.
For more light-hearted ventures then explore quirky museums such as Yasmin at Kong Heng Newseum and The Geological Museum. Also dig into the wide array of local food such the bean sprout chicken, shredded chicken Hor Fun (noodles) and the regional favourite Ipoh White Coffee.
ADVERTISEMENT
CONTINUE READING BELOW
3. Kota Kinabalu
Kota Kinabalu is in the northern part of Borneo island. It is the home of Mount Kinabalu, a sacred mountain that stands 13,000 feet above sea level.
Besides visiting Kota Kinabalu to scale the great heights of Mount Kinabalu, the city also offers many attractions. These include the well-known street markets, the waterfront Kota Kinabalu City Mosque, beautiful Tanjung Aru Beach and a growing number of new shopping malls.
If all these seem too mundane, then check out the island-hopping adventure at Tunku Abdul Rahman National Park, or hop on the old-school North Borneo Railway to ride through the Sabah countryside. These two activities are becoming some of the most popular attractions to do.
Tour Idea
4. Kuala Lumpur
Kuala Lumpur is the capital of Malaysia and this is where the life of the party begins! The city is fast-paced with tall skyscrapers and is also very unique due to its ethnic and cultural blend of Chinese, Indian and Malay influences that are not seen in many other countries.
For those who are interested in the cultural aspect of this city, take a trip to the Chinatown at Petaling Street, or visit Little India Brickfields, the official Little India of the capital. To experience the essence of this multicultural city, then visit the lively night markets such as Taman Connaught Night Market and Kampung Baru Market.
In Kuala Lumpur, there is no shortage of shopping options to fit your budget. From large shopping malls like the KLCC, which carries international labels, to more indie-style boutiques in Bangsar, there is always something for everyone. Importantly, do not miss the wide range of local food that is available in contemporary restaurants, cafes or street food stalls. These you'll find scattered all around the city.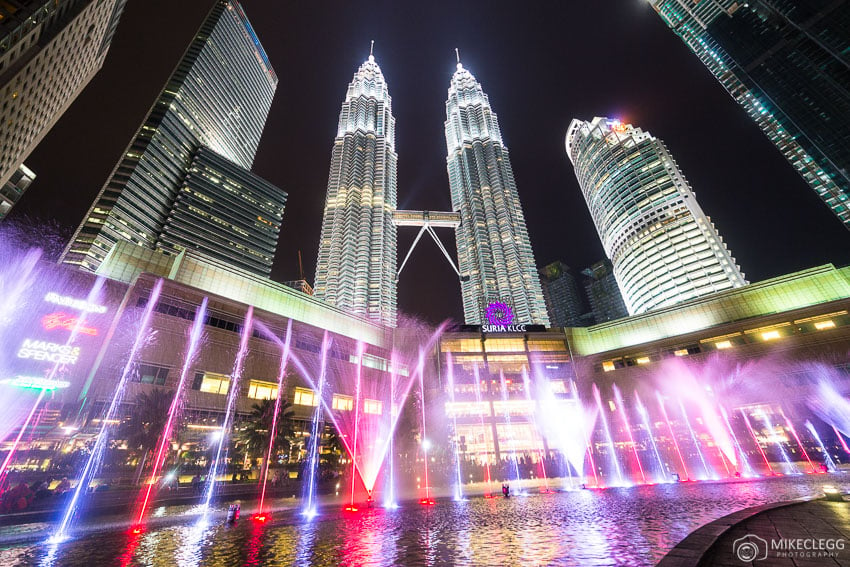 You May Like
5. Langkawi
Langkawi is situated in Kedah, located on the West coast of Malaysia. This duty-free island is well known for its beach resorts and tourism. Besides being one of the recognised diving spots for marine enthusiasts, Langkawi also fascinates nature lovers with its thick mangrove forests, wildlife, and mountainous landscape. In fact, Langkawi was elected as a UNESCO Geopark in 2007.
The island's beautiful mix of forested hills and white sandy beaches that stretch into the clear turquoise sea has made it one of the best places for a vacation. Some popular Langkawi beaches include Pantai Cenang, Pantai Kok, Pantai Tengah, Pasir Tengkorak, Black Sand Beach, Tanjung Rhu, Datai Bay, and Sandy Skulls Beach.
6. Malacca
Malacca is a must-see city located in Southwestern Malaysia. It is an official UNESCO world heritage site that is well-known for its rich history and multicultural influences. Take a walk down Jonker Street and you will see much of Malacca's history and tradition. The bustling street with red brick architecture is packed with shops, street food stalls, antiques, and interesting local delights. Spend some time to explore the significance of historical sites such as St Paul's church, St Paul's Hill, the fortress A'Famosa, and the Stadthuys. These are all important past of Malacca.
No one should leave Malacca without catching a glimpse of the city's quirky cafes such as The Woods, a rustic second-hand bookstore-cum-café at Jonker Street or Calanthe Art Cafe along the alleys of Jonker Walk. Also, try out the Hoe Kee chicken riceball, a popular dish that goes as far back as 1962. If you are looking to shop local goods, check out The Orangutan House, Dataran Pahlawan Melaka Megamall, AEON Bandaraya Melaka Shopping Centre and Freeport A'Famosa Outlet.
Tour Idea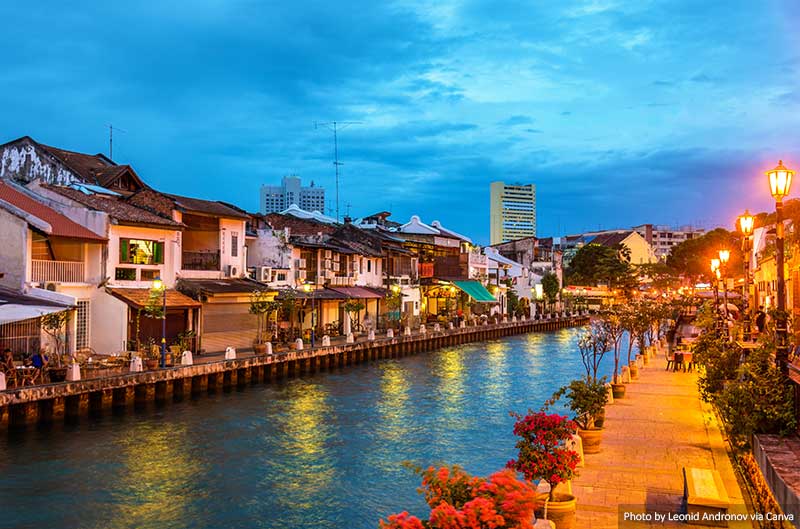 7. Penang
Penang which is situated in the northwest is probably one of the best cities in Malaysia to visit. It is such a gem that even Hollywood's blockbuster "The Crazy Rich Asians" was filmed there!
Penang is home to the famous George Town that is rich in culture, art, and history. Take a walk around town and you will be pleasantly surprised by the delightful street arts that pop up at every corner. The Penang's municipal council commissioned these artworks to inject fun and humour to the traditional district. As such, they indeed attracted not just more tourists but also media attention from all over the world.
Penang is also well known for the beaches that are lined with international resort chains such as Shangri-la, DoubleTree, and HardRocks. Batu Ferringhi and Tanjung Bungah are two popular local beaches where a wide variety of water sports activities can be found.
8. Pangkor Island
Pangkor Island is a beautiful beach island that is located on the West coast of Malaysia. The island offers lots of activities like snorkelling, fishing and island hopping. It is known for beaches like Emerald Bay, Pasir Bogak, Teluk Nipah and Coral Bay.
For those who prefer land activities, Pangkor also offers opportunities for hiking since the island is mountainous. The highest point of Pangkor reaches over 1,200 meters (Pangkor Hills). There are also jungle trails at Teluk Segadas Hill and Titi Ganung for nature lovers.
ADVERTISEMENT
CONTINUE READING BELOW
9. Pulau Sipadan
Pulau Sipadan is one of the best natural travel destinations in Malaysia and one of the top diving destinations in the world. The island is situated in beautiful Sabah, an Eastern state in Malaysia. This is also the only oceanic island in Malaysia that is volcanic in origin. The island rises 600 meters from the ocean floor and is famed for its extensive marine life, such as barracuda, dogtooth tuna, devil rays, grey tipped sharks and hammerheads.
Pulau Sipadan is a hot spot for international marine enthusiasts and avid divers but in order to preserve the fragile ecosystem, authorities are placing restrictions with a daily limit on the number of divers permitted in the area. In addition, visitors are only allowed day trips to Pulau Sipadan. Any overnight stay can be arranged at nearby islands such as Kapalai, Mabul, Mataking and Pom Pom.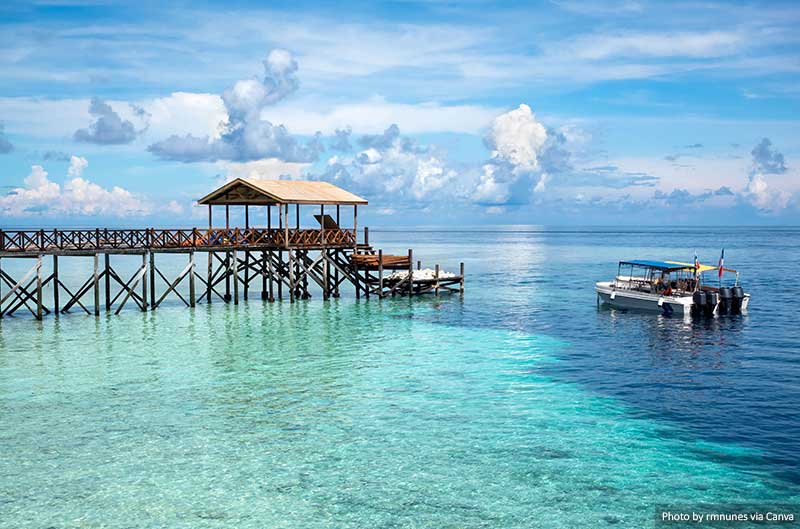 You May Like
10. Pulau Tioman
Pulau Tioman is located on the East coast of Malaysia and is a well-preserved island that is surrounded by coral reefs and crystal-clear water. It is a popular spot for travellers from neighbouring countries and long-haul vacationers because of the wide range of activities and well-developed tourism. There is also a good blend of activities ranging from scuba diving, snorkelling, surfing, trekking, and cultural tours.
Pulau Tioman is also well known for its majestic waterfalls that can be found at the heart of the island. The Asah Waterfall, Juara Waterfall and Paya Waterfall offer amazing experiences and spectacular sights. If time permits then be sure to take a relaxing swim in the water too!
Summary
Malaysia offers a great mix of places to see, including top cities, cute towns, fantastic beaches and stunning nature spots. Be sure to add some of these suggestions to your travel list when booking your trip.